I'm a bit of a numbers geek. If I'm honest with you, others would say that I'm very much a numbers-a-holic.
I make a living managing financial systems, analyzing information and creating Excel spreadsheets full of…you got it…NUMBERS!!!!
I find great pleasure in having things organized, orderly and balanced. I have been like this forever. Really. I was balancing my mother's checkbook at the ripe old age of nine.
Because I am also a very visual person, my spreadsheets are usually different than your average worksheet. They are filled with color!
Am I boring you yet?
So basically I like numbers oriented visual excitement.
Don't let me lose you yet, there is really a good story here that will make you laugh.
I know you think I have totally lost my mind.
Anyway…
I even find this story hilarious and can't help but laugh at myself.

You can not imagine what I had to do to get this picture.
Now imagine me, this crazy redhead, as you read the short story.
On my way to work I knew that I would not trip the numbers far enough for the glorious moment, but on the way home I knew that I would have the opportunity.
That afternoon, as I approached home, I realized that I would have to stop in the middle of a busy road to take the picture.
After a brief moment of, "WHAT AM I GOING TO DO?" type panic, I pulled into the nearest pharmacy parking lot.
There was only one obvious answer to my dilemma – I needed to drive around the parking lot until it rolled over.
That's exactly what I did!
I drove around all the parked cars three times and then the I-CAN'T-BELIEVE-I'M-GETTING-SUCH-A-THRILL-OUT-OF-THIS moment happened…
The odometer rolled 111,111 miles!!!!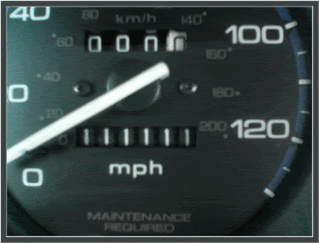 Aren't you thankful to be you?
END
COME TO ME!
I have to get up in four hours and it is still calling my name!!!!!