Special Blogs
Hi There!
Thank you for visiting my blog and taking the time out of your busy day to share my little piece of the world that I call home! If you read my

ABOUT

page, you will understand why this page is so full. I also have eight blogs of my own (all listed in the navigation bar at the top of each blog…they are topic/subject driven, so you might want to check them out). If you want
to be listed on one of them, check out the

ADVERTISING

tab and send me an email. I'll get you listed quickly.
Here are my badges.?
Feel free to take this one because
my friends and followers
add sunshine to my day!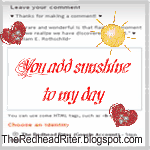 Here are your badges.?